Summary – Coral Games
Bingo Fever – Straightforward 90 ball bingo game, with top prize of 20,000. Excellent range of language options

Go check out this top rated bingo hall. Visit Coral Games now
Coral Games 'Bingo Fever'
Play in US$, Euros or £.
20,000 jackpot.
90 ball instant bingo game. Select your own card and stake, minimum 10p.
See how many balls it takes to complete your card, which has 15 numbers. The fewer balls it takes the higher your payout. If you can complete your card within 40 balls you get the jackpot.
Based in the UK and established back in 1926, Coral Eurobet is one of the world's leading betting and gaming operators, with over 1100 licensed betting shops throughout the United Kingdom, as well as a substantial telephone betting operation, two greyhound racing stadia and the online betting business.
NB You'll find Bingo Fever on the 'Games' section of the site.

Now experience the exciting Bingo at Coral Games. Simply click here
Our Bingo Game Enjoyment Factor Rating:
Coral Games 'Bingo Fever' screenshot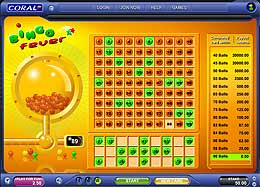 Click Here to Visit Coral Games
If you're new here, you may want to subscribe to my RSS feed. Thanks for visiting!
Give your own rating:
Other players rated this casino:
Click a star to add your own rating.