Summary – Planet Lotto
Please note: Planet Lotto has now closed. Their visitors are being redirected to Plus Lotto.
Planet Lotto – 'Bingo'
Excellent international currency feature. Transactions are in US$ but you can set the software to display amounts in your local currency.
Win up to $1million!!
Play up to 4 cards and stake up to $100 on each.
30 balls are drawn in groups of 5. To win – match any 5 of the 30 balls drawn with any line of 5 on any of your bingo cards.
The good part is even if you lose 8% of your stake goes to charities involved in improving the quality of life for those in need, especially children around the world.

Now experience the exciting Bingo at Planet Lotto. Simply click here
Our Bingo Game Enjoyment Factor Rating:
Planet Lotto – 'Bingo' screenshot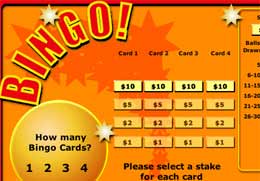 Click Here to Visit Planet Lotto
If you're new here, you may want to subscribe to my RSS feed. Thanks for visiting!
Give your own rating:
Other players rated this casino:
Click a star to add your own rating.