Summary – Rehab UK
4 Card Bingo – 50p per game gets you 4 cards. Win up to £1000 on each card.

Go check out this top rated bingo hall. Visit Rehab UK now
Rehab UK Lotteries 'Four Card Bingo'
Play in £.
50p buys you 4 cards per play and you could win up to £1,000 on any or all of your four cards!
25 balls are drawn per game. To win, match one of the winning patterns – prizes vary for different patterns.
Jackpot is 8000 times your stake.
20% of Rehab UK's lottery proceeds is donated for people with disabilities and others who are marginalized.
NB Rehab UK is only for players in the UK.

Now experience the exciting Bingo at Rehab UK. Simply click here
Our Bingo Game Enjoyment Factor Rating:
Rehab UK – '4 – Card Bingo' screenshot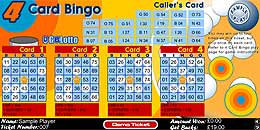 Click Here to Visit Rehab UK
If you're new here, you may want to subscribe to my RSS feed. Thanks for visiting!
Give your own rating:
Other players rated this casino:
Click a star to add your own rating.