Summary – William Hill Bingo
You may know William Hill best for their high street bookies, but their online gaming operations are also top-notch. William Hill Bingo are renowned for their great chat hosts and excellent Virtue Fusion software which is really easy to use and does not require any download. They have 90, 80 and 75 ball bingo games in loads of different game rooms. Most popular is the exciting 'Deal or No Deal' game which is a 90 ball game with an amazing twist!   Tickets from 1p.
NB William Hill do not accept players located in the United States.

Go check out this top rated bingo hall. Visit William Hill Bingo now
William Hill Bingo Games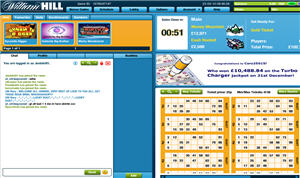 a fantasic range of games are running 24/7, with games starting every 2 minutes
90, 80 and 75 ball games available
Cards from 1p
90 Ball Bingo:

several rooms offer traditional UK style 90-ball bingo
The games have a minimum guaranteed payout and the final payout is determined by the number of tickets purchased per game. The more tickets purchased, the bigger the prizes.
In each 90-Ball game there are three prizes to be won – one-line, two-lines and Full House.

80 Ball Bingo

the traditional, colourful interval game played in land-based clubs and at the seaside
Players can choose to play for Lines, Four Corners and a Full House
available in the Party Room daily between 4pm and 8pm

75 Ball Bingo:

in the Diamond Room players can win on eaxch line before finishing the game on a Full House.
In the Stars and Stripes room there are more complex patterns to match.

Deal or No Deal Bingo – a 90 ball game which plays for the usual 1 line, 2 line and full house prize.  However, this game also cleverly incorporates features from the favourite Deal or No Deal television programme. Go check out the site to find out more!
Special Games

"Big Money Games" – Tickets from 3p for a £300 prize pot, up to 6p a ticket for a huge £600!
£10,000 Super Bingo Linx – On the last Sunday of every month you can play the Super Bingo Linx game for your chance to win a guaranteed £10,000.
Daily Bingo Linx – 3 times daily, 50p per ticket for a guaranteed prize of up to £4000.
Nifty Fifty Bingo Games – every Monday, Tuesday and Wednesday for your chance to win up to £150.
Cometh the hour, Cometh the ton – every Friday between 7-11pm every hour the Full House increases by £100
1TG games – every hour, any player who is in the game and has one number left when Full House is called will win a free 50p bonus

Now experience the exciting Bingo at William Hill Bingo. Simply click here
Our Bingo Game Enjoyment Factor Rating:
William Hill Bingo Chat & Community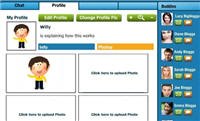 their renowned Chat Moderators (CMs) play a selection of chat games in the Main Room and Community Room throughout the day. Chat game wins are worth £1.
Public, private and group chat rooms always available
Social Networking application lets you create your profile and upload photos
regular newsletter

Now go make some friends at William Hill Bingo.
Our Community rating Rating:
Other Games Available at William Hill Bingo
slots, scratchies and number games are available within the bingo games 
on the rest of the website you can access, with the same account, William Hill's Sportsbetting, Casino, Poker, Lotteries and Skill Games

Click here to try other games at William Hill Bingo.
William Hill Bingo Promotions
Promos vary so check out the latest, but when we looked they were running these:
£25 bonus on your first deposit of £10. (spend £10 on tickets within your first 48 hours of play)
Bonus prizes awarded for various promotions such as chat game winnings, money back on bingo games or bingo draws
"Time For A Treat" –  free scratch card bonus game offered to all non-winners in selected games of bingo. You could win up to £10 in bingo bonus money. 
"Last Chance Saloon" –  free scratch card bonus-game offered to all non-winners in selected games of bingo. Win up to £10 bonus money.
Private VIP rooms for those invited by the manager.
BOGOF (buy-one-get-one-free) offers
"Change Your Luck" – Free invitation games
Free Bingo Thursdays – hourly free games for £50 or £75 pots
"Chatterbox" – win a chat game and receive an exclusive invite to attend a VIP Bingo event for the Chatterbox Playoff, with lots of special games, prizes and the chance to be named Chat Game Champion for the month

Now go check out the latest offers at William Hill Bingo.
Our Bonus & Promos Rating:
Technical/Software Features
Gaming software:
The software is by Virtue Fusion
No-download bingo in multiple games rooms
you can move around the William Hill Bingo site easily using the Mini-Lobby
open up to 3 rooms at the same time. Your best tickets will be displayed in the game window.
Customizable dabbers and sounds
chat shortcuts and emoticons
Auto-daub and auto-bingo.
auto-sort tickets to show those closet to bingo at the top
numbers to go to win display
Called numbers are highlighted on your card if they form part of the required bingo pattern for the current game.
Management:
William Hill have been operating online gaming since 1998.   
William Hill is operated by WHG (International) Limited (licence number 034) and WHG Trading Limited (licence number 041) both companies registered in Gibraltar and licensed by the Gibraltar Licensing Authority and regulated by the Gibraltar Gambling Commissioner.
From their corporate website – "Founded in 1934, William Hill is one of the best-known names in the gambling industry, providing gaming and betting services across three channels: online, on the high street and on the phone. We have been listed on the London Stock Exchange (WMH.L) since 2002 and employ over 15,000 people in the UK, Ireland, Israel and Bulgaria."
24/7 support via chat, phone or email
Money & Banking
Play in £ or Euros
Transactions via credit and debit cards, Quickcash, Paysafecard, Paypal, Neteller, Moneybookers, ClickandBuy, Click2Pay, Western Union, Cheque and bank transfer.  

Start enjoying these great user features now. Go to William Hill Bingo.
Our Technical/Software Rating:
Our William Hill Bingo Overall Rating:

Go play Bingo today at William Hill Bingo
If you're new here, you may want to subscribe to my RSS feed. Thanks for visiting!
Give your own rating:
Other players rated this casino:
Click a star to add your own rating.