This Free Bingo Game is provided courtesy of our friends at ProWagerSystems.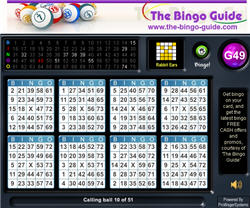 How to play our Free Bingo Game
Make sure your computer's sound is turned on so you can hear the caller.
Click when you're ready to play.
The pattern you are aiming to complete is shown at the top of the screen.
The total number of balls to be drawn, and how many have been called so far, is shown below the cards. The number varies between games.
The numbers already drawn show top-right.
Click on your cards to check numbers off as they are called.
You can check off the centre 'X' on each card at any time.
The game will indicate when a card is 2-away or 1-away from Bingo.
Click 'Bingo' when you have won! Don't worry if you miss it, the game will spot it for you.
You can play as many games as you like.