Summary – Get Minted Max – CLOSED
Bingo Blitz – The faster you get a full-house the more you win. Win up to £15k. Top prize for a 20p stake is £3k. This site was formerly known as – Bet Play and Win.

Go check out this top rated bingo hall. Visit Get Minted Max now
Get Minted Max – 'Bingo Blitz'
Plays in UK£.
Wager 20p-£5. Jackpot is 15,000 times your stake (up to a max of £15,000).
Bingo Blitz gives you 15 numbers on your card. 90 balls are drawn. The faster yours come up, the more you win.
Get Minted Bet Play and Win offers a range of scratchies, slots and arcade games.
This is a Victor Chandler owned site running on Cashcade software.

Now experience the exciting Bingo at Get Minted Max. Simply click here
Our Bingo Game Enjoyment Factor Rating:
Get Minted Max – 'Bingo Blitz' screenshot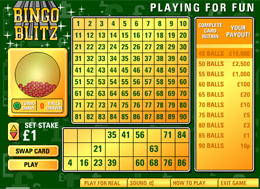 Click Here to Visit Get Minted Max
Give your own rating:
Other players rated this casino:
Click a star to add your own rating.